Mt. Lassen Volcanic National Park
Phone: 530.595.4480
Web: www.nps.gov/lavo
Map: Park Map
Contact: www.nps.gov/lavo/contacts.htm
Although Mt. Lassen is considered a dormant volcano it is literally bursting with activity, with boiling mud, roaring fumaroles and sulfurous gasses steaming up from the ground makes Lassen a unique place to visit. With its last eruption in 1915, Lassen left behind many scars that have drawn people from all around to come see the power and devastation that Mother Nature can unleash. Among the ashes of a healing terrain arises the beauty of the lakes, meadows, wild life and plant life that can show nature's gentle side. Lassen Volcanic National Park offers many educational programs so that guests can get a better understanding of the devastating impact of an eruption that leaves beauty as its final outcome.
Lassen Volcanic National Park is a nature lover's paradise that offers guests a variety of hiking, camping, boating, fishing, stargazing, bird watching , and has many special events during the peak season. When planning a trip to Lassen make sure to stop by the Kohm Yah-mah-nee visitor center located by the west entrance of the park. Here you can see a short film about the volcanic legacy and have fun with some hands on educational exhibits.
---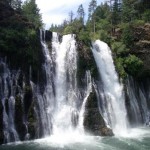 McArthur-Burney Falls Memorial State Park
Phone: 530.335.2777
Web: www.parks.ca.gov
Location:
24898 California 89
Burney, CA 96013 (Google Maps)
Whether you are here on business or for pleasure, McArthur-Burney Falls Memorial State Park is one attraction you must not miss! The falls are fed by a natural spring that flows over a 129-foot drop and through porous lava rock to create the most spectacular, panoramic view, before flowing downstream into Lake Britton. In addition to McArthur-Burney Falls breathtaking view, the park offers a variety of other activities such as fishing, boating, swimming, hiking and camping.
The park also offers cabins, boat rentals at Lake Britton, a general store and a visitor center where guests can learn about the area and how McArthur-Burney Falls became a state park. Every October McArthur-Burney Falls celebrates Heritage Days which is a recreation of the late 1800's. There are many demonstrations and hands on activities to show how the pioneers of that time period lived life. Although the trail is open year round, Heritage days may be an appropriate time to take the .08 mile trail to visit the Pioneer Cemetery.
Directions: The park is northeast of Redding, 6 miles north of Highway 299 on Highway 89 near Burney. You can get detailed driving directions and maps to the park here.
---

InterMountain Adventures
Hours: M-F 8am – 5pm
Phone: 530.708.1597 or 801.599.9992
Web: InterMountain Adventures
InterMountain Adventures specializes in Hobie Kayak rentals, a swift, foot-powered kayak that allows hands free access to fishing and wildlife viewing. Our beautiful intermountain area has many lakes and rivers and provides countless opportunities for fishing, recreation, bird watching, and photography. Whether you are going fishing or venturing out to Ahjumawi Lava Spring State Park, we have the kayak for you. We also offer a motor boat shuttle service out to Ahjumawi State Park. Please visit Intermountain Adventures online for rates and information.
---
Crystal Lake Fish Hatchery/Baum Lake
Hours: M-F 7am – 4pm
Phone: 530.335.4111
Web: Crystal Lake Trout Hatchery
Location:
40158 Baum Lake Road
Cassel, CA 96016 (Google Maps)
Ever wonder where fish come from? Visit Crystal Lake Fish Hatchery and wonder no more. Brook Trout, Eagle Lake Trout and Pit River rainbow trout are produced at Crystal Lake Fish Hatchery through an artificial fertilization process. The trout raised at this facility will be planted in over 60 lakes and streams all over Lassen, Modoc, Shasta, Siskiyou and Trinity counties for anglers to catch. While visiting the hatchery guests can enjoy viewing, feeding and learning about the fish they raise or simply drop a line in nearby Baum Lake. Local wild life viewing is popular here as well, especially bird watchers, seeing birds of all kinds in this area. Bald Eagles fishing, ospreys nesting and as many as 200 to 300 geese have been observed on the hatchery grounds and along the shores of Baum Lake.
Directions: Go west on Highway 299 to Cassel Road. Turn left, keep going south on Cassel road past Packway Materials to Baum Lake Rd., turn left. Baum Lake and Crystal Lake Fish Hatchery will be at the end of Baum Lake Rd. While passing Packway, take time to stop and view the structures made out of old vehicles and material.
---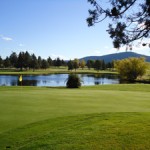 Fall River Valley Golf and Country Club
Phone: 530.336.555
Web: www.fallrivergolf.com
Location:
42889 Hwy 299 E
Fall River Mills, CA 96028 (Google Maps)
Take in the scenic views of the wooded forest and Mystic Mountain tops that surround you while teeing off at the Fall River Valley Golf and Country Club. Leave the city behind and enjoy the fresh mountain air while playing over a slightly rolling terrain, through the pine trees and past crystal clear lakes while catching a glimpse of the local wild life in the area. Because of its location the Fall River Golf and Country Club is a fun, exciting and truly unique experience for both visitors and locals alike. Don't know how to golf? Or just want to improve your game? Fall River Valley Golf and Country Club has a practice facility with a driving range so the guest can take a lesson or two from a trained teaching staff. This facility offers an onsite pro shop for all your equipment, apparel, equipment rental needs, and the County Club Grill, where anyone can enjoy a relaxing lunch or have a drink or two.
Directions: Fall River Golf and Country Club is located on Highway 299, on the west edge of town. If you are driving from the motel it will be on the left hand side.
---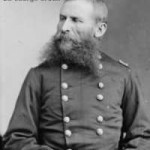 Fort Crook Museum
Phone: 530.336.5110
Web: www.fortcrook.com
Location:
43030 Fort Crook Museum Ave.
Fall River Mills, CA 96028 (Google Maps)
The Fort Crook Museum was built in 1965 entirely by generous donations of time and materials from members of the community and the Fort Crook Historical Society. At the Fort Crook Museum visitors can take a step back in time to see the fascinating history of the inter-mountain area. You will be intrigued with stories about the Modoc Indian War and the Modoc Indian leader Captain Jack as well as learning about the early settlers to the area. Fort Crook Museum is open to the public and has many artifacts, buildings, and displays for visitors to enjoy.
Fort Crook Museum also offers blacksmith workshops to demonstrate and teach the art of crafting metal using the forge, anvil and a wide variety of blacksmith tools. Workshops are held on the 1st and 3rd Sunday from noon to 4 PM during the winter months, beginning November. Attendees are asked for a $5 donation and may have any degree of expertise. Beginners are most welcome!
Directions: The museum is on Highway 299, where Glenburn Rd., Ft Crook Ave and Highway 299 all meet.
---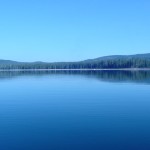 Medicine Lake
Phone: 530.964.2184
Location:
Harris Springs Road off Hwy 89
Contact: USDA Forest Service
McCloud Ranger Station
P.O. Box 1620, McCloud CA 96057
Known for its healing powers, Medicine Lake has special spiritual significance for local Indian tribes, who frequently use the lake for ceremonies. The Pit River, Modoc, Shasta, Karuk and Wintu Indians believe the water has power to heal and to renew, and have used the area around the lake as a training ground for medicine men. Another interesting fact about the lake, and what most people don't know, is that Medicine Lake is a shield volcano, a type of volcano built almost entirely of fluid lava flow, and named for its large size and low profile resembling a warrior's shield. This is caused by the highly fluid lava it erupts, which travels farther than lava erupted from more explosive volcanoes.
The Medicine Lake area has a wide variety of sites to see surrounding it like Glass Mountain, numerous ice caves and miles of lava beds. This area makes a happy camper out of anyone who loves to camp in the wild outdoors offering lots of primitive campgrounds around the lake, and the more developed campgrounds that are at the lake.
Directions: Take Highway 299 west to Highway 89 and turn right. Keep going north on highway 89 then turn right on Harris Spring Road. Medicine Lake will be approximately 33 miles off Highway 89.
---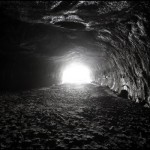 Subway Cave
Phone: 530.336.5521
Web: National Park Webpage
Twenty thousand years ago, the ground broke apart and created an enormous volume of hot molten lava to stream across the land like a river and created the Hat Creek Lava Flow. After being exposed to the air, the top of the lava flow began to cool and solidify, while the molten rock below continued to flow creating lava tubes which carried the red-hot lava rock miles from its source. A section of lava tube, less than a third of a mile long and located between two areas of ceiling cave-ins, is known as Subway Cave, named for resembling an underground subway.
The entrance to the cave is a short easy walk from the parking area and concrete steps have been constructed at both ends of the cave, providing easy access for all. There are picnic tables and clean restrooms on site providing a nice shady place for travelers to stop and picnic. Cave Tips: No light enters the cave so make sure to have a dependable flashlight. Watch your step and wear sturdy shoes as the floor is uneven. Temperature inside the cave is 46 degrees so you may want to take a jacket.
Directions: Go West on Highway 299 to Highway 89 and turn left. Subway Cave is located near the town of Old Station, 1/4 mile north of the junction of Highway 44 & 89 across from cave campground.
---